Mission, Vision & Core Values
Our
Core Values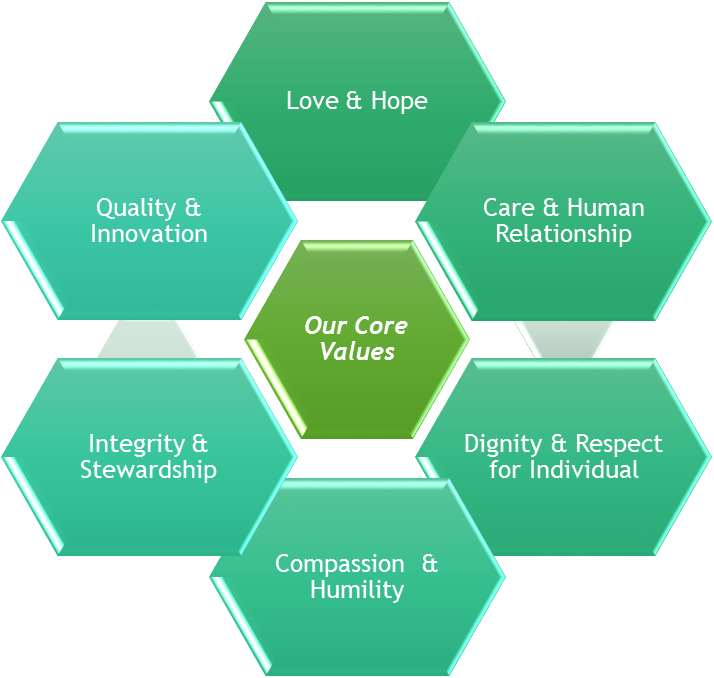 Our core values are central to our collective vision that serve as enduring and guiding principles. These values are incorporated into our services, continually communicated and reinforced.
Love and Hope
We strongly integrate our principle of "do everything in love". Love activates, empowers, encourages, and encompasses all of our other core values. We invest in individuals, families, and communities to dream big, live a life driven by purpose, and help them acquire real life skills. We empower people of all ages and give them hope and a future.
Dignity and Respect for Individual
Each person has a unique and intrinsic value. We commit to treating everyone with dignity and respect regardless of their socio-cultural or socio-economic background. We embrace people's individuality, anchored on love, to foster holistic development and growth.
Compassion and Humility
We devote ourselves to serve compassionately and humbly, making people feel loved, safe, and secure with us.
Care and Human Relationship
Everyone is interconnected in a web of care, making care indispensable to human life and fundamental to human relationships. We understand, recognize, and value the centrality of care and importance of relationships highly and believe that the best way to enable long term root-level change is by building healthy, meaningful, and caring relationships engrained in love.
Quality and Innovation
We operate creatively as we build excellence into everything we do. As we embrace people in need, we are distinct in our quality of service. We focus profoundly on paying attention to and identifying their needs, taking responsibility to act on those needs, being competent to meet those needs, and attentively evaluating if the needs are met by determining whether the responsiveness is adequate.
Integrity and Stewardship
We strongly encourage and embrace openness and transparency. We establish and maintain systems that ensure accountability.