Pauline Prabhakaran
Chairperson & Managing Trustee
Education
Master of Arts in Sociology
Annamalai University, Chennai, India
Diplomo in Teacher Education - Secondary Grade
St. Christopher's Training College, Chennai, India
Dr. Pauline Prabhakaran is the Chairperson and Managing Trustee of Jeevaratchanai and Executive Director of The Hope House Chennai. She created and constituted this charitable trust motivated by her genuine desire to serve and support the underprivileged community for the betterment of their well-being. She is a highly committed and passionate person with an experience of over 21 years in the social service field, possessing diverse experience in implementing the methodologies with strong knowledge of working in the respective field. Pauline has vast experience as a social worker and has excellent rapport with various local government departments due to her years of involvement within the local community.
Pauline, empathetic by nature, acquires a great deal of professional, social, emotional and cognitive skills in dealing with the entire community including government and non-governmental. She values human relationships highly and works collaboratively with people from all walks of life and empowers them. Pauline advocates for individuals and communities with a real sense of mission on identified problems. She is well versed with human rights, child welfare issues and is also extremely resourceful and innovative to not only execute various programs but also to guide and mentor her team accordingly. Her personnel management skills summed up with the ability to handle high-profile projects exceptionally, displays her expertise in handling the various sensitive projects autonomously and as a team. She is incredibly determined and filled with both tenacity and faith. … just how highly respected and well connected she is within the city of Chennai. She has a heart to save children and is very excited by the prospect of beginning The Hope House.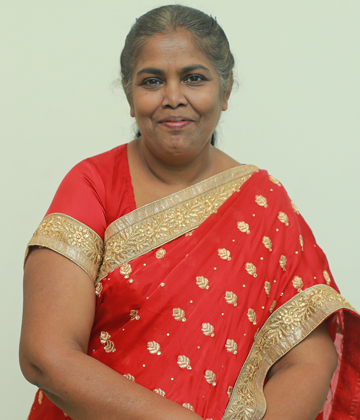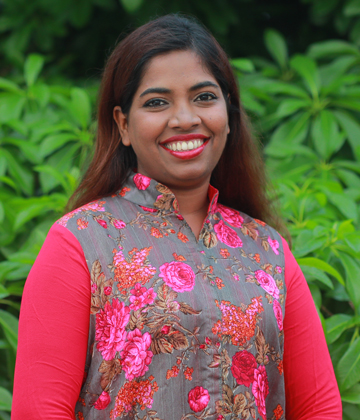 Phebe Prabhakaran
Vice President
Education
Master of Science in Software Engineering
Anna University, Chennai, India
Phebe Prabhakaran is the Vice President of Jeevaratchanai and the Executive Manager/Superintendent of "The Hope House, Chennai". With a Master of Science in Software Engineering, Anna University, India, Phebe has over 11 years of experience in the IT Sector, leading over 28 projects as a Project Technical Lead and worked in over 41 projects in Singapore with client world-wide. Some of her software projects are being accessed and used by millions around the world.
Her passion for her people and her community has brought her back to her homeland. She believes that everyone has a part to play in the development of a caring and selfless society. This call for Social Responsibility has instilled in her passion to care for the destitute and abandoned children.
She has initiated and led many socially-productive programs for children that help children develop self-confidence, team building skills, cultivate and harness their talents and cater to their physical and emotional development. As the Vice President of Jeevaratchanai, along with the management team Phebe has funded many programs voluntarily.
Phebe's superlative background in managing and leading multiple teams with strong entrepreneurial and managerial skills, helps direct the organisation towards fulfilling its vision and mission.